In stock
Regular price
$76.92 USD
Sale price
$54.94 USD
Unit price
per
Sale
Sold out
Indulge in the vintage-inspired beauty of the Olive Nut Green Onyx Beads Bracelet. This handcrafted masterpiece combines the earthy elegance of olive nut and the soothing hues of green onyx, creating a unique accessory that exudes charm!
The Green Onyx Beads Bracelet's design draws inspiration from vintage aesthetics, seamlessly blending classic and contemporary elements. It's a statement piece that transcends time and is suitable for various occasions. Adding a touch of sophistication, the bracelet features copper alloy accents. These metal elements complement the earthy tones of the beads and create a harmonious visual balance. The Bracelet invites you to embrace the enduring allure of vintage aesthetics while celebrating the serenity of nature.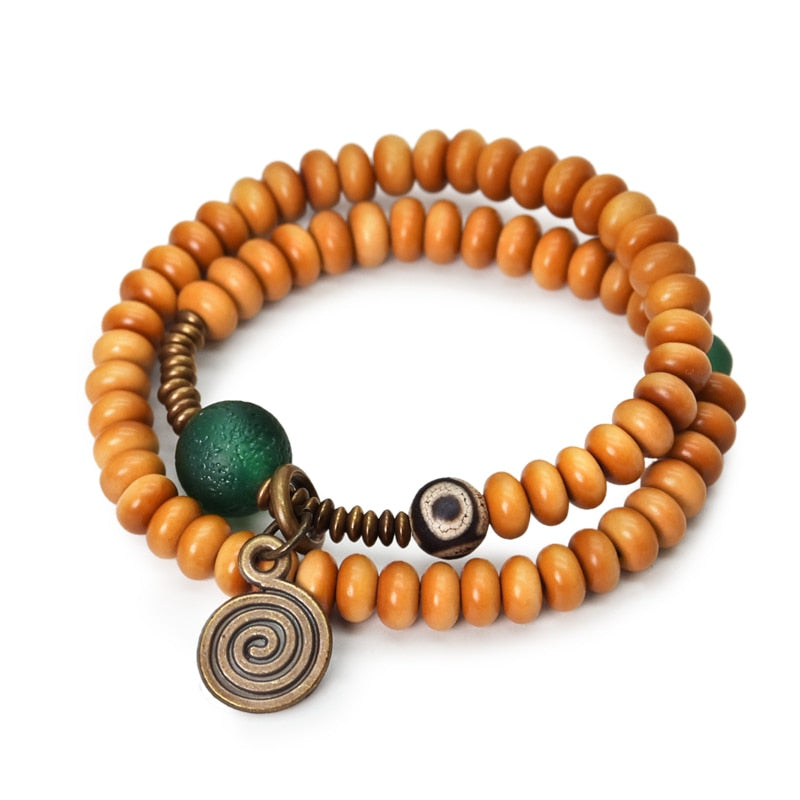 Crafted with precision, the round beads featured in this Olive Nut Beads Bracelet are made from olive nut and green jade. These natural materials enhance the Green Onyx Beads Bracelet's overall appeal and impart a sense of grounding. For your comfort and convenience, this bracelet is strung on high-resiliency elastic silicone cording. It provides a secure fit while remaining flexible and easy to wear. Each bracelet is painstakingly handmade with meticulous attention to detail. Our artisans pour their skill and creativity into crafting a bracelet that stands out.
Features:
Our eco-envelope packaging reflects our dedication to sustainability.
It's suitable for self-expression or as a thoughtful gift for a loved one.
Beyond its appearance, this bracelet serves as a symbol of safety and inner peace.
Wear it to carry a sense of security and tranquility with you wherever you go.
The bracelet's beaded chain design is classic and timeless.
It complements various outfits and styles, allowing you to express your unique personality effortlessly.
This bracelet is a testament to the elegance found in the world around us.
Specifications:
Bead size: Round
Style: Vintage

Shape: Round

Rope: High-resiliency elastic Silicone cording

Process: Handmade

Package: Eco-envelope

Metals Type: Copper Alloy

Material: Wood
Function: Remain safe

Color: Copper color

Chain Type: Beaded Bracelet

Bead: olive nut, green jade, Tibetan bead

Pairs well with
Olive Nut Green Onyx Beads Bracelet

$76.92$54.94
---
Bundle Offers from Addly
Shipping

Shipping cost 3.7$

Free shipping from $18

Ready to ship: 1 business day.

The average delivery time is 2-4 weeks.

Possibility to cancel the order: 2 hours after purchase.

We ship worldwide.
Returns

We accept Free returns within 30 days after the order is delivered.

We review refund requests within 1 business day.
View full details