In stock
Regular price
$68.46 USD
Sale price
$48.90 USD
Unit price
per
Sale
Sold out
Step into the world of vintage-inspired luxury with our Retro Multi-Layer Green Stone Bracelet. This exquisite piece pays homage to the timeless charm of vintage aesthetics while showcasing the natural allure of semi-precious stones!
Rediscover the allure of vintage-inspired jewelry with the Multi-Layer Green Stone Bracelet, a statement piece that embodies both style and significance. Embrace the charm of a bygone era with a bracelet that effortlessly captures the essence of vintage style, making a statement wherever you go. Crafted with care and precision, each bracelet is a testament to the art of handmade craftsmanship, ensuring that it is as unique as you are. Beyond its visual appeal, this bracelet is believed to offer protection and bring good luck, making it a cherished accessory with a deeper significance.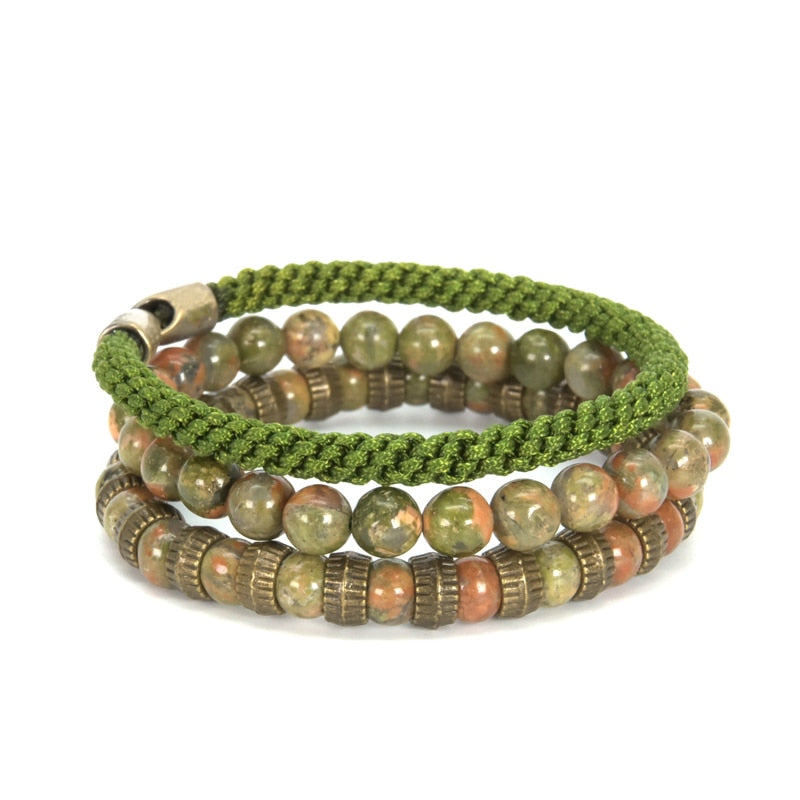 Our commitment to environmental responsibility is reflected in our eco-envelope packaging, demonstrating our respect for the planet. The presence of copper accents adds a touch of warmth and elegance to the Retro Green Stone Bracelet, elevating its overall aesthetic. The use of semi-precious stones showcases nature's beauty in each carefully selected bead. Designed to be appreciated by all, this bracelet transcends gender boundaries and offers timeless elegance for everyone. The combination of rich red and vibrant green tones creates a striking visual contrast that captures attention.
Features:
The beaded design allows for comfortable wear, making it a versatile accessory.
The Bracelet adds a touch of vintage-inspired luxury to your ensemble, creating a fashion statement that stands the test of time.
Semi-precious stones, chosen for their unique characteristics, bring out the innate beauty of nature, allowing you to connect with the earth's treasures.
This bracelet is not just an accessory; it's a symbol of timeless elegance.
Adorn your wrist with confidence, knowing that you're wearing a piece that celebrates vintage elegance and the beauty of nature's semi-precious stones.
Specifications:
Style: Vintage
Shape: Round

Rope: High-resiliency elastic Silicone cording

Process: Handmade

Package: Eco-envelope

Metals Type: Copper

Material: Semi-precious Stone

Gender: Unisex

Function: Protection, bring good luck

Color: Red and Green

Chain Type: Beaded Bracelet

Bead: Red Jasper, Africa Grass Jade, Copper

Pairs well with
Retro Multi Layer Green Stone Bracelet

$68.46$48.90
---
Bundle Offers from Addly
Shipping

Shipping cost 3.7$

Free shipping from $18

Ready to ship: 1 business day.

The average delivery time is 2-4 weeks.

Possibility to cancel the order: 2 hours after purchase.

We ship worldwide.
Returns

We accept Free returns within 30 days after the order is delivered.

We review refund requests within 1 business day.
View full details