In stock
Regular price
$35.00 USD
Sale price
$24.80 USD
Unit price
per
Sale
Sold out
Promote your style with the Solar System Planets Galaxy Bracelet - a trendy and captivating accessory that seamlessly combines fashion and mystique.

Our made-with-precision round-shaped bracelet features high-resiliency elastic silicone cording for a comfortable fit, ensuring it stays in place all day. The Bracelet boasts exquisite materials, including a copper alloy with copper-plated gold accents, creating a lustrous and luxurious finish. Its striking beads are made of a blend of shimmering crystals and mixed gemstones, each bead measuring 10mm in size.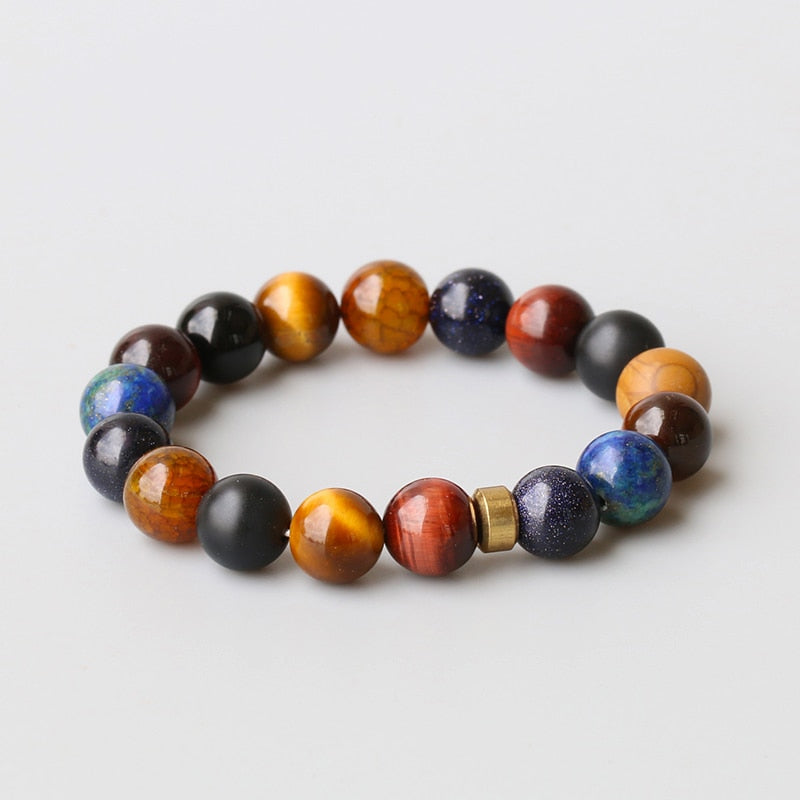 Beyond its aesthetic appeal, this Natural Stone Stretch Bracelet holds a unique purpose: to attract all the positive energies from the universe. Channel the celestial forces and make a statement with this Solar System-inspired accessory. Embrace the harmony of the cosmos while adorning your wrist with this stylish and spiritually meaningful bracelet.
Features:
Crafted with high-resiliency elastic Silicone cording,
This round-shaped bracelet boasts copper-plated gold accents.
This beaded bracelet is designed as a fashion statement.
Attract all the positive energies the universe has to offer.
Immerse yourself in the beauty of CRYSTAL materials as you wear.
Blending seamlessly with the stunning 10mm mixed gemstone beads.
Elevate your style and cosmic connection with this exquisite accessory.
Specifications:
Style: TRENDY
Shape: Round
Rope: High-resiliency elastic Silicone cording
Metals Type: Copper Alloy
Metal Type: Copper-plated gold
Material: CRYSTAL
Material: Mixed Gemstone
Function: Attract all good things from the universe
Chain Type: Beaded Bracelet
Bead size: 10mm
Pairs well with
Solar System Planets Galaxy Bracelet

$35.00$24.80

+
---
Bundle Offers from Addly
Shipping

Shipping cost 3.7$

Free shipping from $18

Ready to ship: 1 business day.

The average delivery time is 2-4 weeks.

Possibility to cancel the order: 2 hours after purchase.

We ship worldwide.
Returns

We accept Free returns within 30 days after the order is delivered.

We review refund requests within 1 business day.
View full details